Builders and general contractors need the correct set of equipment and machinery to help them build and construct a particular development project. And while construction cranes, cement mixers, dump trucks, and other heavy construction machinery have become synonymous with massive building and construction projects, cherry pickers and similar machinery is fast becoming a mainstay in these developmental projects. In fact, it would be quite difficult to see a construction project be efficiently managed without these pieces of heavy equipment.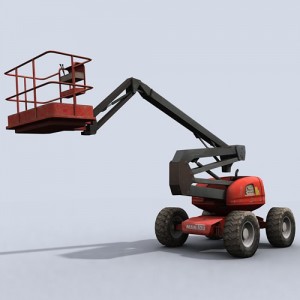 A cherry picker has long been equated with utility companies that are often called to clear overhead branches and electrical wires so they don't pose a threat to passers-by. However, these elevated work platform systems are fast becoming important tools in the construction industry as these provide a more stable and highly mobile platform compared to conventional scaffolding.
For example, the elevated platforms allow construction workers to bring with them all the resources they will ever need to complete a particular section of the project. This eliminates the tedious task of climbing up and down the scaffolding just to pick and refill construction materials. With cherry pickers, workers can bring with them all the materials they will ever need. They can also safely move from one section to the next right in the safety of the cherry picker.
Aside from safety issues, mobility is a major consideration in the use of elevated work platforms such as boom lifts. While a scaffolding can be built to wrap around the building project, the amount of time needed to install the system can mean loss of invaluable resource. Using elevated work platforms, on the other hand, is as simple as driving the cherry picker or scissor lift from one area of the construction and building project to another. This mobility and ease of operation simply means that more of the project can be accomplished in a significantly shorter period of time.
All of these can translate to better returns on investment as the project can be completed within budget. This simply means that the project can be sold a lot faster and the proceeds of the sale be used for other development projects. More importantly, however, is that fully functional cherry pickers, scissor lifts, and other similar elevated or raised work platforms can help deliver projects in a timely and more efficient manner. For builders, this is something that they would want from their project.
Though the construction industry is not a falling venture, it is still more recommendable to rent out equipment than invest on them. It's best to contract with http://universalmobiletowerhire.com.au/.